Posts in category 'Uncategorized'
You know about Facebook, LinkedIn, and Twitter. You might be using them every day for business and consider yourself a social media professional. The fact is there are a lot more social tools that aren't social networks, and quite a few of those definitely deserve your attention.
1.       Social Intranet.
What if Facebook included all the elements of SalesForce, Dropbox, Google Calendar, BaseCamp, RememberTheMilk and WhatsApp? That's social intranet for you – a private corporate social network that helps you work with clients, collaborate with co-workers, share files, exchange ideas and vote on next week's cafeteria menu – accessible 24/7 from PC, mobile phone or iPad. Social intranets come in different shapes and sizes – some are small business friendly with a generous free package (like Bitrix24), while others are created for Fortune 500 type companies and can easily cost over a million dollars (like Jive Software).
2.       Social Bookmarks.
Reddit, StumbleUpon, Delicious and Digg are just two examples of social bookmarking sites. While they are fun just to browse, they do have a business angle to them. First, influencers (journalists, bloggers, early adopters) read them. Second, they (especially Reddit) are capable of driving tens of thousands of visitors to your site in a single day – that is, if the news about your website or service makes it to the front page. Finally, most social bookmarking sites offer very affordable (3-5 cents per click), ultra-targeted PPC campaigns that you can run in relevant subsections.
3.       Social HR
Social HR solutions tend to fall in two categories. The first kind, like TribeHR, is a lot like social intranet, making it easy for workers to communicate with their HR departments online for things like vacations, benefits and sick days. The second kind, like TalentBin, are used mostly for recruiting. They scan social networks, like Facebook, Twitter, Klout, LinkedIn and suggest candidates who have the biggest social footprint in the field you are interested in.
4.       Social Outsourcing.
OK, so it's really called crowdsourcing – but since you have multiple applicants with ratings and different feedback mechanisms, that's what modern crowdsourcing is – social outsourcing. Unlike social networks, where bigger is better, you'll get the most value from relatively small highly specialize sites. Need cool domain name? For 50 bucks, the crowd at PickyDomains will generate hundreds of awesome unregistered suggestions and you only pay if you decide to use one of them. Need a new T-Shirt design? Yes, there's a crowdsourcing service that does just that called Threadless. Ran out of marketing ideas? IdeaBounty to the rescue.
5.       Social CRM
Customer relationship management solutions that integrate social media (Nimble, Insightly, HootSuite) are now growing faster than traditional CRMs. Suppose you are about to meet a new client. What's on his or her mind? With social CRM, with one click of a button you'll see the last 10 tweets, Facebook posts and LinkedIn updates made by that person. Social CRMs are also capable of instantly notifying you when your company is mentioned in social media. You can also set it up to alert you of certain keywords, like 'trademark lawsuit' (if you are a lawyer) and create your own list of prospects as soon as these people need your services.
6.       Social Learning
While a lot of people think that the term 'wiki' comes from Wikipedia, the opposite is true – wikis were first and Wikipedia came later (the first wiki was called WikiWikiWeb and debuted in 1996). Modern social learning management systems (like Litmos, Moodle or Outstart) go way beyond simple wikis, and incorporate all the advantages of social networks into the learning process. You can use them to store knowledge inside the company, create learning materials, and test your employees.
7.       Social Reviews
While website owners tend to ignore social review sites like Yelp and Qype, talk to any restaurant owner and they'll tell you how much their business can be affected by a single Yelp review. Social reviews are starting to play an important role internet based businesses as well. Rotten Tomatoes and MetaCritic, for instance, already have a visible effect on Netflix rentals and game sales. As with crowdsourcing – watch for small niche sites that can be highly relevant to your line of business.
Source - Beyond Facebook – Twenty Some Social Tools Your Business Should Be Using
See also:
Will Social Intranet Gobble Up CRM? Yes, And It's Only A Matter Of Time
CRM basics: Converting Leads and Business Processes
Duda Mobile Takes On iOS And Android
PickyDomains - startup that caught everyone by surprise
From 0 To $30,000 A Month With Dropshipping
Off the Books: The Underground Economy of the Urban Poor
Hot Tips - The Best Free Business Tool You (Probably) Don't Know About.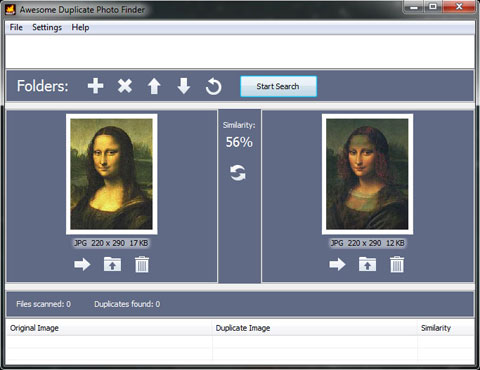 http://www.duplicate-finder.com/
Are duplicate photos eating up your hard disk space? Are they giving you a hard time organizing your photo filing system?
To give your hard disk drive some extra wiggle room while ensuring you have a clean and organized photo collection, Awesome Duplicate Photo Finder might be the tool you're looking for. Awesome Duplicate Photo Finder is a software that's absolutely free and can locate and remove duplicate photographs, even similar images, from your photo folders in your computer.
Awesome Duplicate Photo Finder requires no registration. It is adware-free, spyware-proof, no malware or other unwanted software.
After downloading the program into your computer, simply drag your photo folders into the folder where Awesome Duplicate Photo Finder is saved. The application should be able to compare pictures with enhanced colors and/or pictures that have been resized. It can support major image file types: PNG, BMP, JPG, GIF. Once located, you're free to do as you please with your duplicate photos.
[Via - PickyDomains.com]
Cool Startups - ContractGurus.Com
PickyDomains - startup that caught everyone by surprise
The (Evergrowing) List Of Cool Bootstrapping Sites
From 0 To $30,000 A Month With Dropshipping
Off the Books: The Underground Economy of the Urban Poor
How I Increased Sales 350% With Press-Release
Daily Advice Link - Free Logo Service
Cliché as it might sound, Sir Francis Bacon hit the nail on the head when he coined the phrase "knowledge is power." Indeed, with the right know-how, the right level of information, people are better able to make sound decisions, decisions based on facts, not emotions or hearsays. The same goes for spending. In today's volatile economy, mindless spending is a sin. I don't know about you, but I would never want to find myself ruing the day I took out my wallet and paid for something, especially if it's ridiculously expensive, I don't have any need for.

Now, let's make things clear before we go any further. Spending is not bad as long as your wits are properly in place when you hand over the cash (or swipe your plastic, if you will). If it doesn't feel right, take a step back and postpone the spending for another day after you've slept the idea over or turned it upside down in your head quite a bit. Yes, delay gratification if that's what it takes to make you feel better.

Photo via budgetways.com

So with that out of the way, let's say "aye, aye, captain" to Sir Francis Bacon and load up on information about six online businesses that even my innately frugal self may consider taking a hard look at one of these days:

1. IDPoster.com

IDPoster.com is an online service specializing in the printout and distribution of celebrity posters. The site has posters of singers, actors and actresses, athletes, models and many others. And if you want a picture of yourself turned into a poster to adorn a bare wall in your bedroom, simply upload your image to the site, specify the size and design, add to your cart and you're done.

2. La-Z-Boy Spas/Hot Tubs

From the leader in comfortable seating for decades now, La-Z-Boy Spas/Hot Tubs takes seating comfort to the next level – this time, with water. Almost 80 years ago, cousins Edward Knabusch and Edwin Shoemaker started a furniture business. They invented a porch chair with a recline feature. Owing to their designing philosophy, "nature's way of relaxing," the chair was a phenomenal success, and the rest is history. No doubt, the company's spa line is poised to garner the same success.
3. Northern Hot Tub Covers

If you choose to get yourself a hot tub, you should consider getting a hot tub cover, too. It has been shown that even a hot tub cover with the least possible heat insulation value can potentially save up to 75% on heating costs, definitely a lot better than simply leaving the hot tub's surface exposed when it's not being used. Northern Hot Tub Covers is a Canadian company that specializes in hot tub covers that are guaranteed to withstand even the worst of Canadian weather.

4. Ermitage Jewelers

Ever since the time of our forefathers, jewelries and hand-crafted timepieces are the accessories of choice. Ermitage Jewelers has been in the business of buying, selling and trading Switch watches and authentic jewelry for almost three decades now. Domiciled in Atlanta, Georgia, the company also has an online business that carries the same stock as the brick-and-mortar store.

5. MegaFlowers.com

Women love flowers, and I'm generalizing. There may be some that don't, but they're a minority compared to the overall female population. So if you're planning on making your girl feel extra special, especially if she's in another part of the world, consider MegaFlowers.com, an online flower shop that specializes in the delivery of fresh flowers all over the world. With their partner florists and delivery companies in every country in the world, delivery time range from 3 to 24 hours depending on location and at prices that need not be headache-inducing.

6. Education4Drivers.com

If you're a driver or would-be driver, you should realize that having a license is not just about being able to drive around. Education4Drivers.com is an online driving database that tackles everything a driver needs to know about state laws, navigating state roads, the driver's permit, which actually is needed to apply for a driving license, driver's manual, parent-taught driving and tons of other materials. So for first time or refresher courses, head on to the site and get your daily dose of driving-related information.
A hobby or your bread-and-butter, photography never goes out of fashion, not today, not tomorrow, not in the too-distant future. Why, you might ask. For the simple reason that a photograph memorializes a moment that can never be captured by the human mind for very long.
And believe it or not, photography is an art as well. While some people may argue that photography is nothing but capturing what already is in existence, whenever you look at a photo, you see the image the way the photographer selects to present and frame his photo - the lighting, the angle, the vividness of the color scheme, every small detail that adds to the overall quality. If that isn't art, I probably have the wrong definition of the word "art."
As art has a wide audience appeal, it's no surprise that a lot of tools, tips, tricks, enhancements, whatever you call them, have cropped up in the market. In the case of photography, photo lenses have been introduced. Several different brands and makes are now vying for attention, all created to allow the flexibility photographers hope to achieve in terms of sharpness, color and other parameters.
As the domain would suggest, AllPhotoLenses.com is a site where photographers, professional or otherwise, meet, review and discuss photo lenses. Through the site, they also get to upload and see actual photos taken using a particular type of lens. The members themselves upload news, articles and other online resourcesfor other members to benefit from. Additionally, they can opt to buy, sell and trade photo lenses and other equipment with other members.
Founded by Sergey Borodin, a professional photographer himself, AllPhotoLenses.com aspires to become the biggest online database for everything related to photo lenses. It was first introduced in the Russian language through Lens-Club.ru.
[Via - Bitrix24.Com]
PrintLuna is a new service that allows you do design and print any book online. Its speciality is quality photoalbums, moderately prices ($7.70 to start with) with no minimum number of copies required, meaning you can order only one. Books are normally shipped to your home or, if intented as gift, to the address you enter, but you can also sell your books through PrintLuna and they'll take care of everything from shipping to handling transactions.
2. MP3Mixx.com
MP3 revolution has already drastically cut the costs of how much you pay for your music. Remember, only a decade ago, paying $20 for a CD seemed perfectly 'normal'. Nowadays, you can get any track for 99 cents or even less. MP3Mixx is a MusicLine Limited affiliate that sells music for as low as 15 cents per track. Unfrortunatelly, you have to register and log in (it's free) first, before you can get access to full library and payment plans.
3. Logaster.com
Every business needs a logo and if you call your local designer, you'll quickly how expensive creation of even the simplest logo can be. But don't pull your wallet out yet - head over to Logaster, free logo creating service with a unique twist. A lot of online services offer free logo creation. Logaster is the only one that offers $4,99 a month subscription plan that enables you to also create branded products, like business card, envelopes, etc.
If you are a YouTube regular, you know YouTube doesn't want you to download any videos from the site, since they make money only by showing you ads with the video they stream. So if you need to download YouTube video and you don't know how it's done - head over to YouTubeDownloaderHD.com, 100% free software that downloads high definition YouTube videos without quality loss.
5. Bitrix24.com
Another cool freebie here. Bitrix24.com is a suite of online business tools that are free for small businesses (defined as 12 employees or less). You get free CRM, free intranet, free task manager, free document sharing and other cool goodies, like photogallery.